Customer relationship management tools (CRM) can do magic when it comes to organizingcommunications and sales process, whether you run a one-person business or a large company.
While each software has different features, in general, CRMs can serve you to track the communication with the customer, automize communications and tasks, and track the state of each lead.
In this article, we are taking a comparative look at two very popular CRMs, HubSpot vs. Zoho.Choosing the right CRM software for your business can be tricky, primarily because if your chosen software lets you down, moving files from one software to another is a slow and challenging process. That is why it's a good idea to weigh each software against each other beforehand.
The following paragraphs offer an overview of the different features each software offer, compare them and look at how they will fare for different business needs.
HubSpot vs. Zoho At a Glance
[table id=2 /]
What are HubSpot and Zoho CRM?
Now, let's dive into a detailed look at the tools offered by Zoho and HubSpot.
Zoho CRM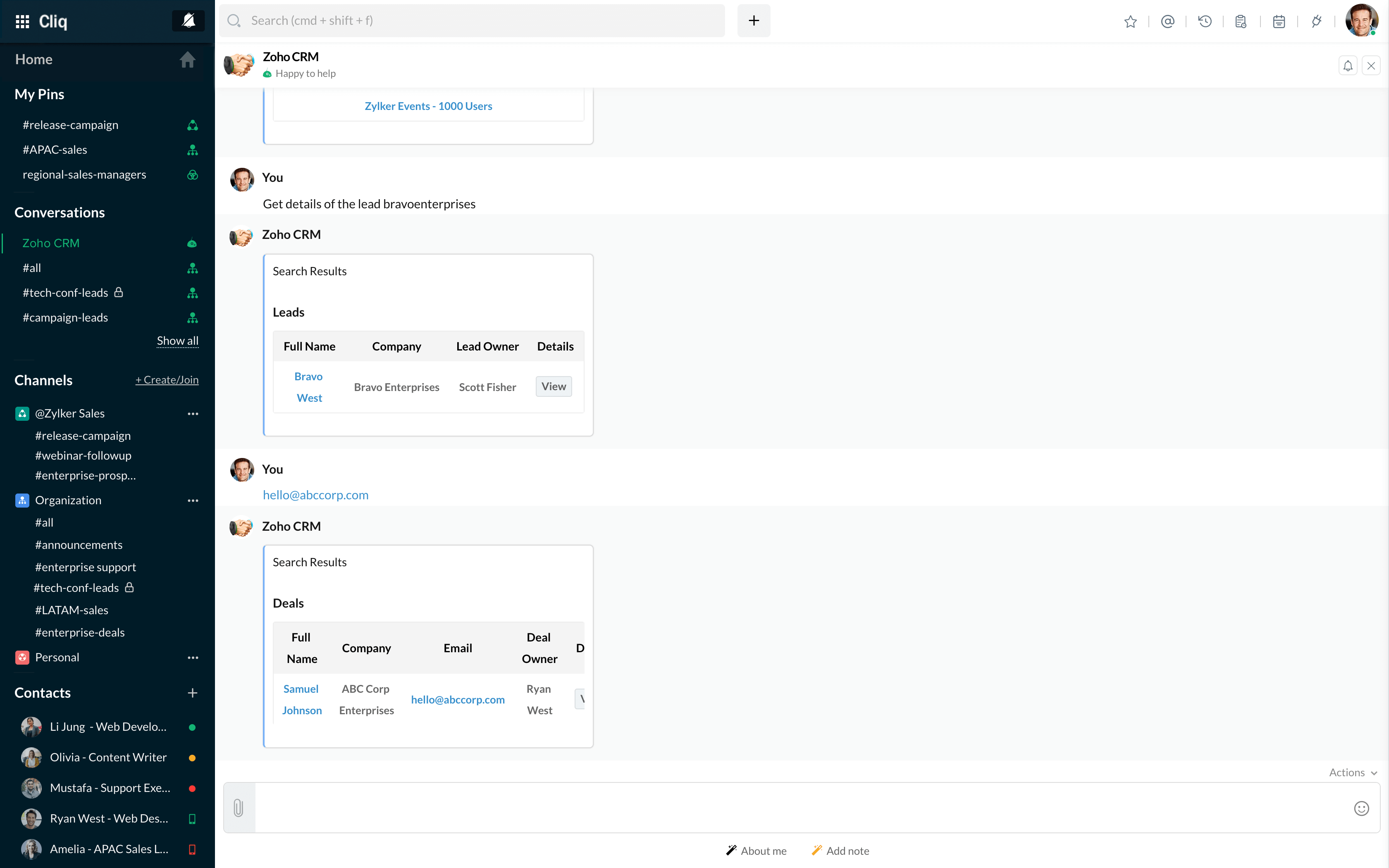 Zoho CRM is a customer relationship management tool created by Zoho Corporation; they also offer other well-known web-based business tools such as an office tool suite as well as project management tools.
Zoho CRM is a cloud-based CRM tool, which is their flagship product. Zoho CRM has a variety of features such as lead management, reporting, analytics, sales forecasting, and gamification; the features cover an extensive range of areas that require administrative attention.
Zoho lets you automate the sales force and enhance productivity. It can ease your team's burden in managing and organizing leads. By visualizing your deals in progress, it gives the users and managers a better grasp of the overall state of the tasks at hand.
The communication with the customer can be centralized through Zoho's support for multichannel communication. You'll be able to connect with your customers through email, live chat, phone, and social media, all in one place. You will also receive real-time notifications when the customer interacts with your business.
As we mentioned before, the strength of Zoho is in its administrative focus and the toolkit it provides for the managers to overview and make decisions. Some useful tools Zoho offers the managers include reports, analytics, forecasting, and gamification of the sales process. Also, workflow automation is excellent for taking care of routine tasks. It is a feature that increases efficiency and reduces errors. You can also create a visual blueprint of your sales process, to help your staff have a better grasp of the status of every lead and the steps that have to be taken from there.
Zoho CRM's features can be upgraded through the variety of plans they offer; their tier of pricing ranges from free to 45$/month and user. Each plan expands the features adding more tools to match your company's work scale. With all the different options they have available, Zoho CRM is an excellent software for businesses of any size.
  Zoho CRM Pros  

Gamification of the sales process

Great for administrators

The paid plans offer very solid CRM tools
  Zoho CRM Cons  

UX can be complicated for the less tech-savvy users

Workflow automation is limited to paid editions

List Element
Zoho is a very flexible and highly customizable system. The cost of a license is acceptable for small and medium businesses. Moreover, they offer a great API that enables integration with completely different systems and services. Top-level workflow automation. Ability to create web forms without programming. Excellent localization. Zoho Creator – a system for creating your own applications inside Zoho Quality support.
Maksym Babych
CEO at Spdload
HubSpot CRM Free is another popular customer relationship management tool. It was developed by HubSpot, a public company known for its marketing and sales tools. The company was founded in 2006, and while it initially targeted small-sized businesses, it now offers services to all types of companies.
Like Zoho, HubSpot CRM is a cloud-based tool catered to help businesses take care of their leads and customer relationship. HubSpot CRM Free comes packed with several free marketing, sales, and service tools and is suitable for most business sizes. You can upgrade the marketing, sales, and services plans according to what your business strategy.
Compared to Zoho, HubSpot CRM is less optimized for administrative tasks and has a more substantial focus on marketing. It offers analytics, a visual dashboard, and realtime data on sales funnel. HubSpot even includes a landing page builder.
Using HubSpot CRM, you'll be able to track the customer's interaction with your business channels. The data is then stored in the form of a timeline for future reference. 
HubSpot CRM has many great free customer communication tools, such as lead generation tools, web forms, live chat and bots, advertising tools, and helpdesk tools. 
As a marketing-focused CRM tool, HubSpot has a variety of functions when it comes to email, social media, and phone calls. You can create email templates, manage contacts with automated actions, send automatic emails, and track the performance of the emails.
The HubSpot CRM integrates very well with other HubSpot software, the features of which are accessible through the primary toolbox tabs. You can also add applications to customize your workspace.
The basic HubSpot CRM Free is offered for free, but it's, in fact, a freemium product since the free features are limited. The additional features are available upon upgrading the sales, marketing, or service tools, and it can quickly become a pricey tool.
While HubSpot might seem less of a CRM powerhouse compared to Zoho, new features are being developed comparatively fast, and well, the product has been continuously evolving since it's launch. 
If you are a freelancer or a very small-sized business looking for an affordable tool mainly for simplifying the communications process, HubSpot CRM might be the right place to start.
On the other hand, the UX of HubSpot stands out compared to Zoho. It is a much more intuitive tool, and the UI is less intimidating and more pleasant to the eye.
   HubSpot CRM pros  

Good UX and UI

Powerful marketing automation tool

Solid core features offered for free (however limited)

Great customer support
  HubSpot CRM cons  

The number of free features can be very limited

Adding features can become very pricey
HubSpot vs. Zoho: Features Face to Face
Zoho and HubSpot are both great products with each with its strength lying in a particular area. In this section, we move on to weighing the features that both software products share against each other.
Customer Communication Tools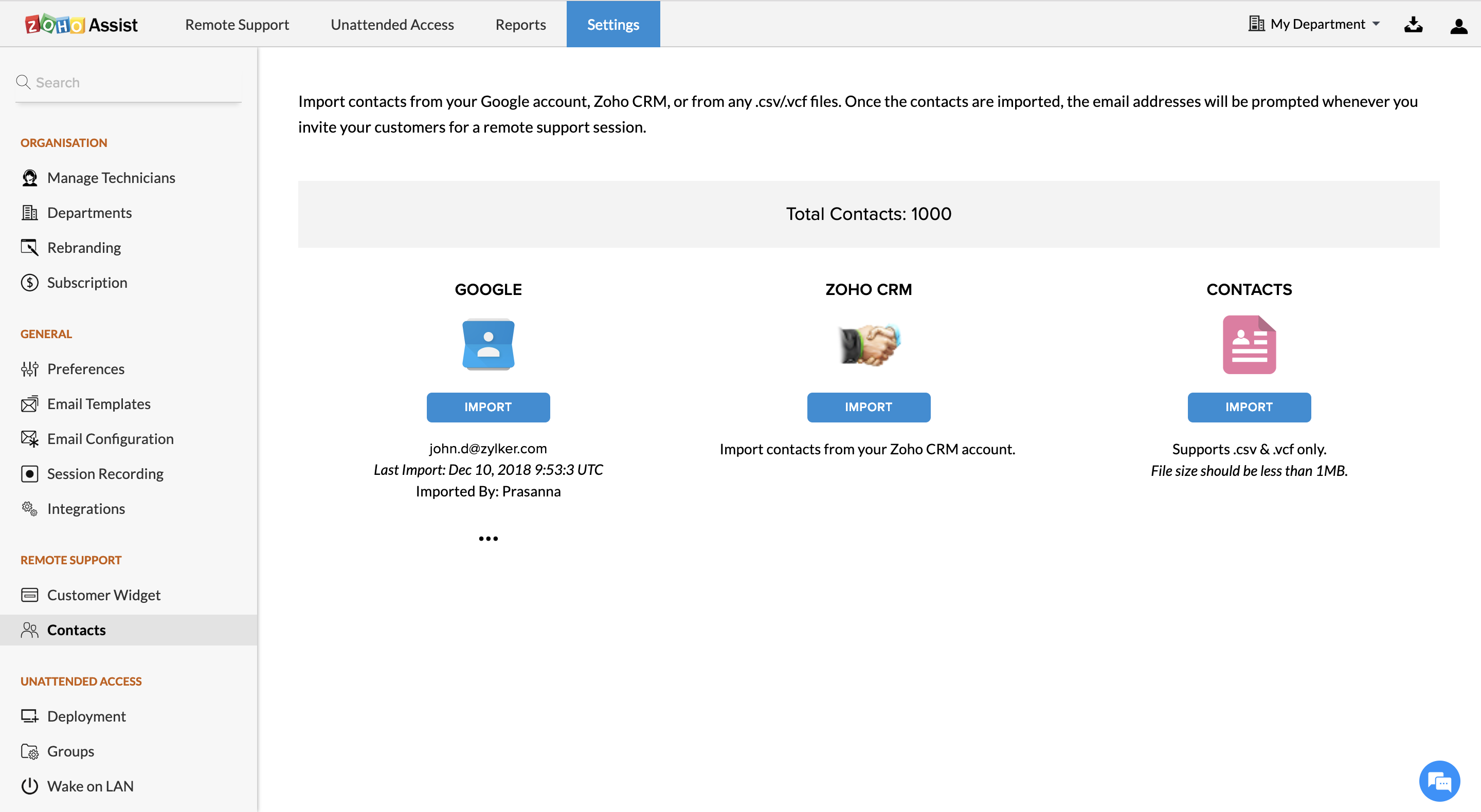 While CRMs have evolved to be much more than a centralized communication hub, at the core of them stand the tools they offer to turn a lead into a sale.
Both Zoho and HubSpot offer great communication tools that can be customized to match a variety of different businesses.
Zoho allows you to connect your email client and centralize the entire communication process. Also, its Phonebridge integration tool that has partnered up with 50 telephony companies allows auto logging phone calls and auto-scheduling. 
There are additional tools for monitoring and tracking social media channel interactions and a live chat function, web forms, web conferencing, ticketing, etc.
On the other hand, HubSpot offers what they call a universal inbox. This is a useful tool if you need your entire team to view, track, and manage customer communication making the process more synchronized. The universal inbox allows the integration of multiple channels. 
Their live chat function is easy to set up and, when used together with their basic chatbot, helps turning website visitors into contacts.
We think both products fare well when it comes to their core CRM software functions. However, Zoho seems to win this category based on the variety of the tools they have available.
UX & UI
When investing in a business tool such as a CRM software, and especially since switching software is a daunting task, you'll have to consider the experience your employees will have using it. After all, changing from a CRM software to another is a messy and time-consuming process that can lead to data loss.
Zoho and HubSpot might seem to have a similar layout at first glance, but there is a big difference between them when it comes to UX and UI.
Both tools offer a comprehensive insight into the current status using a customizable dashboard area. However, customization might be limited according to your payment plan. 
HubSpot CRM free offers three pre-made dashboards optimized for marketing, sales, and service activities regardless of your payment plan.
We think that both software has an overall good UX & UI design, but HubSpot takes the upper hand in this category. The Hubspot CRM's UI is much cleaner and modern looking, which can make the long hours of work more pleasant. 
Also, after considering many user reviews, HubSpot's UX appears to be much more intuitive for the average user, while Zoho might require more training to get used to.
Mobile Apps
Having easy access to your business data on the go is an advantage that has only become available in our decade. Good mobile accessibility can make or break a digital business, and an intuitive mobile application will take working on the go to the next level. As such, both Zoho and HubSpot currently offer mobile apps. 
Zoho's mobile app allows the user to follow up on the critical data and stay on top of the progress made by their coworkers. It also allows the users to add notes and record their meetings, even when they are offline. 
Another beneficial feature is that you can log calls and other communications that are made on your cellphone, as opposed to the official channels.
Zoho has an artificial intelligence assistant that is also accessible through the mobile app. The AI assistant can be a useful tool to organize the data you collect on the go and add them to the files.
Similarly, HubSpot's mobile app is optimized to help the user stay focused on the tasks at hand and up to date with task lists, to-do lists, and reminders. The users will have real-time access to the functions and can check the process status on the go.
On top of that, HubSpot mobile makes meetings much easier by giving you a timeline review of the contact and allowing you to add additional information and follow up notes as the meeting goes on.
You can also access the live chat function through the app.
Much like their original tools, each company's mobile application excels at serving a specific type of need. Zoho CRM mobile is a powerful tool for business operations, and HubSpot CRM mobile is a great marketing and communications tool.
Zoho Vs. HubSpot: Stand-out Features
Aside from the similar features at the core of Zoho CRM and HubSpot CRM, the two have unique features that are worth noting. These features could be what makes either product a more fitting choice for your business.
What are Zoho's notable features?
Automated Workflow: Zoho allows customizable and automated workflow which reduces inefficiency and human error.
AI Assistant: Zia is the AI assistant available to Zoho users. It works similar to Siri or Alexa and can help organize contacts and data.
What are HubSpot's notable features?
Email marketing, HubSpot is a strong CRM software tool for marketers with many features that are built to ease your email marketing processes.

HubSpot CRM free allows storage of up to 1,000,000 contacts making it a great tool for small businesses.

HubSpot includes as well a useful landing page builder, helpful to integrate and run all-in-one place your lead generation process.
Conclusion
At the end of the day, what you're asking yourself is: "which CRM suits my business the best?" 
CRM's are a great way to centralize communication, automize the otherwise time-consuming and repetitive processes, and turning a lead into a sale. Yet the choice of which product to use can be tricky. 
Here are some suggestions to consider:
Use Zoho CRM if:
You need a tool that is strong in the administrative aspect. 

You are a medium to large-sized company.

You need to automize your sales process and you want to use technology to motivate employees.
Use HubSpot CRM if:
You are a freelancer or run a small company that could do with a small number of core features.
You are focused on marketing. 
You rely on the other tools offered by the company.